Riverside Park is a lovely 18-acre wooded open space that rises from the Thames River to the Northeast New London neighborhood and the Winthrop Elementary STEM Magnet School. Created in 1893, the park was a popular recreation spot - for games, picnicking, swimming and viewing the annual Yale-Harvard Regatta - for generations of New Londoners, until it became isolated due to the construction of I-95 and urban renewal. It remains a hidden gem whose unique landscape and sweeping views offer peaceful respite from the stresses of everyday life. Directions to the park.
Come to Riverside Park on Saturday, September 16, for this year's Down by the Riverside Festival. As in past years, we will have live music, plein air painters, children's activities, and snacks, all provided free by Riverside Park Conservancy with support from the Community Foundation of Eastern Connecticut for "A Living Ecosystem" program and supplies. Hope to see you there!
Riverside Park Conservancy is in the process of making plans for this area across from the pavilion, where historically there was a small playground that was removed when the old equipment became unsafe. A rain garden is in the works at the north end, near the US Coast Guard Academy fence, but there is ample space for recreational amenities to be added to the rest of the parcel.
A couple benches have been ordered, but we are seeking public input on what sorts of recreation should be provided (creative play? adult fitness? nature trail? for visitors to the north end of the park.
Please complete our online survey, or download a pdf document that you can mail (or email) to us. Thank you!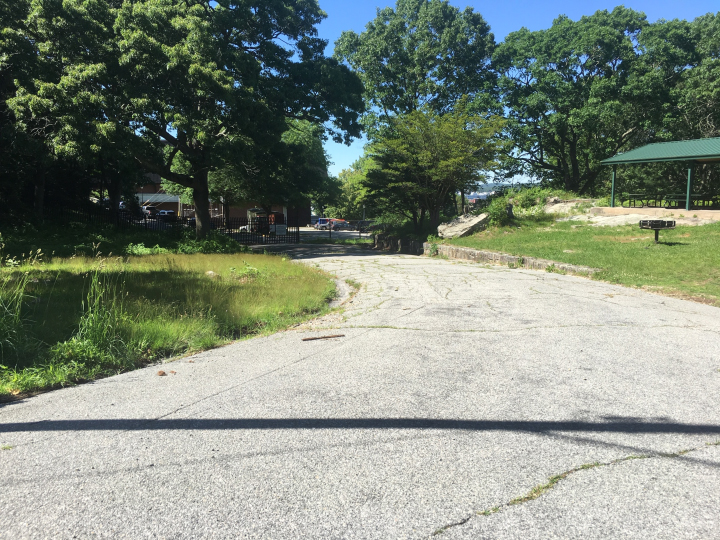 To help park visitors navigate its 18 acres of recreational spaces and natural areas, Riverside Park Conservancy installed a kiosk with park map near the main parking area. (You can pick up a 2023 brochure as well!)