The East New London neighborhood was settled early, as residences and businesses were built on Main, Winthrop, Bragaw, Front and Lewis Streets, along the east and west shores of Winthrop Cove. The Old Mill, originally commissioned in 1650 and rebuilt on the same spot after it was burned down during the American Revolution, still stands. By the mid-1800s, East New London was also home to the Beckwith Shipyard and Repair Shop, Thos. Fitch's Marina, the East New London Nursery and the Northern Rail Yard.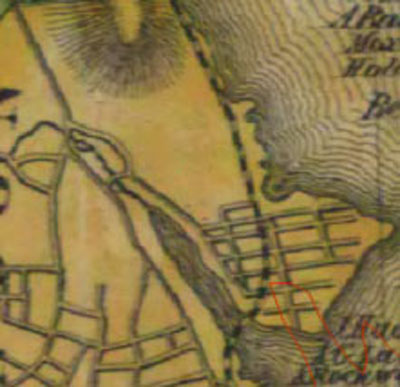 1854 New London Cty Baker Map
By 1911, New London's population had grown to nearly 20,000, with much of the new housing built along the grid of streets that developed between Williams Street and Crystal Avenue. At the same time, Riverside Park expanded to nearly 33 acres, a valued green space that provided all New Londoners - rich and poor -with recreational opportunities and river access less than a mile away from city center.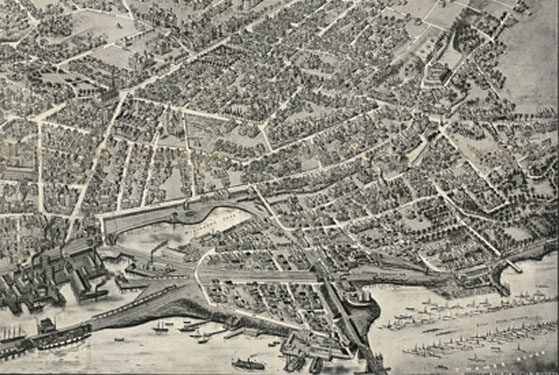 1911 Hughes & Bailey Aerial View of New London
This 1934 aerial view shows little change from the 1911 map. East New London at this time remained densely populated and easily accessible to New London's downtown.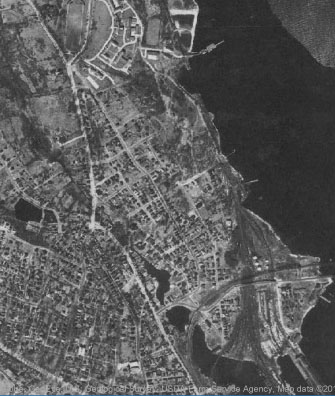 1934 Aerial Photo of ENL
New London's population peaked at nearly 35,000 in 1960; though East New London was impacted by the construction of the first span of the Gold Star Bridge, the neighborhood remained largely intact. Hodges Square had become the vital social and commercial center of East New London, while Riverside Park enjoyed popularity, especially within the city's African-American community, as a prime spot for picnicking and other recreational activities. However, urban renewal had at this time become a looming inevitability, and by the end of the decade the neighborhood would become unrecognizable.
1965 Aerial Photo of ENL
Between 1960 and 1975, interstate highway development - including construction of the second span of the Gold Star Bridge - cut off East New London from the rest of the city; dozens of acres of East New London homes and businesses were taken by eminent domain and razed for the construction of an elaborate system of I-95 access ramps, as well as for publicly-owned housing developments. One of the results was a loss of 25% of the city's population between 1960 and 2000, as well as a shift of residents, wealth and political power to the south end of the city. Since 1970, the landscape of East New London has remained largely unchanged; however, renewed interest in revitalizing Hodges Square and reconnecting the north end of New London with the rest of the city bodes well for the future of the neighborhood.
2012 Satellite View
To compare aerial imagery of East New London from two time periods, side by side, visit the Connecticut Aerial Photography Mosaics at http://magic.lib.uconn.edu/mash_up/1934.html?lat=41.7626&long=-72.6795&layerA=1934&layerB=hybrid&zoom=15